Mary's Parents
Mary, Queen of Scots Home Page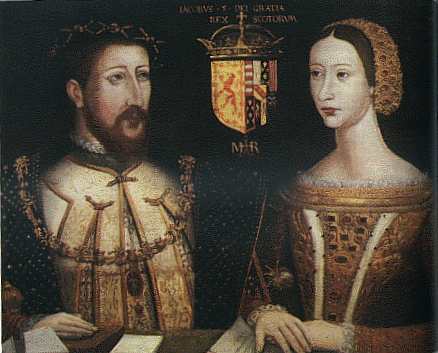 James V, born 10th April 1512 and died 14th December 1542, was the seventh Stuart king of Scotland (1513-42), the son of James IV. In 1514 James V's mother, Margaret Tudor, daughter of England's Henry VII, married Archibald Douglas, 6th earl of Angus. John Stuart, duke of Albany, became regent and a power struggle ensued among factions controlled by Albany, Angus and Margaret. For a time, Angus, a pro-English Protestant supporter, held James prisoner (1526-28). When James reached his majority he sided with Scotland's pro-French Catholic faction against the English. On 1st January 1537 he married Madeleine, the daughter of Francis I of France, and received a large dowry. She died the following July, and James married (1538) Mary of Guise. His aggressive, vindictive policies lost him the support of the nobility, weakening his army and contributing to his defeat by the English at Solway Moss in 1542. Soon after this battle, he died at Falkland Palace leaving a week-old daughter, Mary Queen of Scots to succeed him.
Mary of Guise was born on 20 November 1515, eldest daughter of the marriage of love between Antoinette of Bourbon and Claud, Count of Guise Her father became somewhat of a hero but his military career kept him away from the family home at Joinville where she grew up. He distinguished himself fighting in the Italian Wars and was created Duc de Guise by King Francis I. Her mother, far from being the subdued housewife type, took a vivid interest in her husband's affairs and believed in conveying that sense to her daughter. Claud's own mother, Philippa of Gueldres was a formidable woman with a devout nature who, sickly and aged 58, decided to join a convent and make vow of poverty. Her son came to her for advice when Martin Luther's revolutionary ideas began to spread the Protestant movement, and she urged him to fight heresy. From this moment onwards, Claud saw himself as the defender of the faith. It is therefore not surprising that Antoinette wished for her daughter to receive a strong Christian education, and what better teacher than her own grandmother. Mary was thus sent to Pont-au-Mousson to learn. However, when aged 14, her uncle Antony and his wife paid her a visit and recognised her father's looks and charms. Such a girl should no longer languish in a convent but be introduced to the glamour of Francis's court. It was thus that Mary had her first contact with the world of courtiers with all its jealousy and insincerity. However, Mary remained unmarried for some time although she divided her time between court and the family home. Finally, on 4 August 1534, she married another illustrious young man, Louis, Duke of Longueville in the chapel of the Royal Palace of the Louvres. Their union was a happy one and Mary found a purpose in becoming the source of charity for local people. On 30 October 1535 her first son Francis was born. In the winter of 1536, she attended the wedding of the King of Scotland, James V and the French King's eldest daughter, Princess Madeleine. Princess Madeleine however, a tubercular, could not withstand the rigours of the Scottish climate and died a couple of weeks after her departure. Mary, who was once again pregnant shared in the general sorrow which was soon to be her lot too. On 9 June 1537, Louis her husband died at Rouens from an unclear epidemic and left her a widow at the age of 21.
Far from thinking about remarrying, Mary mourned her late husband and gave birth to her second son, Louis on 4 August 1537. However, James V of Scotland having lost a first bride was well intent on procuring himself another French spouse to further the interests of the Franco-Scottish alliance against England.His uncle Henry VIII of England, getting wind of his plans decided to prevent this dangerous union by asking for Mary's hand for himself.Half-amused and half-disconcerted, Francis I of France accepted James's proposals over Henry's and conveyed his wishes to Mary's father Claud. Mary received the news with shock and alarm. She did not rejoice at the prospect of leaving family and country to be married off to a notoriously neurotic and unstable King.Especially now that she had just lost little Louis aged only four months.Her father Claud was caught in a diplomatic wrangle.He tried to delay matters as much as he could until James, probably sensing her reluctance, wrote her a letter in which he appealed to her for advice and support. Mary, finding once more a sense of purpose, accepted the offer and hurried plans for departure. On 9 May 1538 she was married to James in her castle of Châteaudun through Robert, Lord Maxwell acting as proxy. On 10 June, forced to leave little Francis behind, she embarked at Le Havres accompanied by her father, sister Louise and a household of French servants. Just like her daughter, Mary Queen of Scots would later stare mournfully at the disappearing French coast, so she did but also discovering that, like her, she was a good sailor and remained unaffected by seasickness. On Trinity Sunday Mary and her fleet touched Scottish soil at Balcomie near St Andrews. Confirmation of her marriage to James and rejoicings followed. Mary was pleasantly surprised by the welcome that she got and by what she saw. She had been led to believe that Scotland was barbaric and uncultivated but visits to her new domains such as Falkland Palace, Linlithgow Palace, Stirling Castle and Edinburgh Castle convinced her of the contrary.
Mary's task was now to prove to her new husband that she was worthy of the life he offered her.She found that James had little time for her and kept his cards close to his chest, being used to a bachelor life and to directing his own affairs.Homesickness was worse than she had expected, and she was shocked by the lack of reverence with which the nobility treated James. However, keen to integrate herself within her new surroundings, she resolved to learn everything there was to know about Scotland.She encouraged marriages between members of her own household and the Scots, learned to speak Scot, and made herself indispensable to James.Conversely, she also tried to introduce some Renaissance refinement into the predominantly medieval Scottish way of life.Soon, French fashion and ideas began to permeate the country. At every opportunity she sent messengers to France for cloth, plant cuttings, masons and other things, while keeping an affectionate correspondence with her mother Antoinette. But one thing worried Mary; after a year of marriage, there was still no sign of an heir for James.Her prayers were finally answered and overjoyed by the news of his wife's pregnancy, James wasted no more time to crown her Queen of Scotland.The coronation took place at Edinburgh Castle on 22 February 1540 and baby James was born at St Andrews on 22 May of the same year. As befitted the heir to the throne, the child would have to remain in St Andrews and his education taken out of the Queen's hands.Unfortunately, his father remained prone to fits of depression and by early autumn 1540, had an old friend arrested and executed for allegedly plotting against him.The friend in question was Sir James Hamilton of Finnart but not a shred of evidence existed against him.James later suffered terrible nightmares in which Lord Hamilton returned to cut off both his arms and promised to return to cut off his head.In the meantime, alarming reports that baby James was ill reached Mary who was pregnant again.However, he soon recovered and Mary prepared herself for the birth of her second child.On 24 April 1541 she gave birth at Stirling Castle to another son, Robert. However, within days of the christening, little James's health was once more in jeopardy.James rode to St Andrews but arrived too late to see his son alive.Distraught, James had yet another tragedy to face that day: his second son had also died while he was away.Mary was in mourning once more.There were rumours that the children had been poisoned, probably by the slighted Hamiltons who had lost their claim to the throne with their births, but these were never substantiated.The two boys were transferred to Edinburgh and buried at Holyrood Abbey.
If Mary and James were at first united in their grief and tried to keep up appearances, all was not well between them.The death of his only two legitimate sons had plunged James into an even deeper depression and paranoia.He suspected every one of his Lords of plotting to overthrow and assassinate him.The Lords, on their side, saw James's condition with increasing disquiet.There is no doubt that James's fears were not groundless: Lord Hamilton for one saw his chances of becoming the next King of Scotland restored, now that the only heirs had died and that James's health was clearly on the wane.On the other hand, King Henry VIII of England was in constant dispute with James over his unwilligness to break his ties with the Catholic Church.But now, this anxiety even turned itself against his own wife Mary. John Knox, who was both a mysoginist and xenophobe seized the opportunity to insinuate that she was having an affair with Cardinal Beaton, a married family man old enough to be her father.James on his side, had begun to seek refuge in physical pleasures and every one of his indiscretions were related to Mary in an effort to widen the rift between them.Mary's distress was increased by the fear that she might not get pregnant again but, being a highly intelligent woman and harbouring a keen interest in public affairs, she turned away from the domestic sphere to concentrate on the financial administration of her household.Then, Mary discovered that she was carrying another child.Although James welcomed the thought of a new heir, his mind was preoccupied by Henry VIII.The King of England had lost his patience and rallied James's mortal enemies, the Earl of Angus and his brother Sir George Douglas with a small force.They were defeated at Kelso but when James rode to the Borders to retaliate, the divided loyalties of his Lords caused him a bitter defeat at Solway Moss.James's spirit was irretrievably broken; paying a last visit to his wife at Linlithgow Palace, he then rode on to Falkland Palace where, on 14 December 1542, he died suddenly after hearing the news of his daughter's birth a few days earlier.The question which now posed itself was that of the Regency. Among the contenders were of course Lord Hamilton, Earl of Arran being second in line but how could Mary be sure that he would resist the temptation of eliminating the only obstacle which lay between himself and the throne: her new-born daughter?On the other hand, there was Cardinal Beaton with his pro-French policies, accused of forging James's will as he lay confused and dying at Falkland.In terms of her marriage contract, Mary was entitled to return to France but also to be Queen Regent.Although the idea must have been tempting to her, she had no desire to leave her daughter behind.Furthermore, she had always endeavoured to play an active role in Scottish public affairs and she would continue to do so, so that she could hand over a stable country to her daughter when she came to rule.On 3 January 1543 the Earl of Arran was proclaimed Lord Governor of Scotland, by the Privy Council and Cardinal Beaton was made Chancellor of Scotland a week later to the dismay of the former. As James V's funeral was being carried out in Edinburgh, Mary stayed guarding her child within the safety of the walls of Linlithgow Palace.
Mary soon found herself embroiled in a cat and mouse game between Henry VIII's party and the Earl of Arran.Henry had started pressing Arran on the question of the royal marriage between his son Edward and little Mary.Mary, having no intention of agreeing to this alliance was nevertheless obliged to act tactfully for fear of provoking an English invasion.The sudden reappearance of Sir George Douglas did nothing to reassure her.Former enemy of her late husband and working for Henry VIII, his influence over Arran could only be detrimental to her own interests.Indeed, Henry's plan was to turn Arran's sympathies in favour of England and to get rid of Cardinal Beaton.For Mary, lacking authority in her present position as James's widow, losing Beaton was a disaster.Her fears were confirmed when Beaton was suddenly kidnapped at the Palace of Holyroodhouse during a meeting of the Privy Council.With Beaton safely imprisoned at the Castle of Dalkeith, Arran now proceeded to impose his own servants on Mary's household at Linlightgow.Forbidding her to leave for the safety of Stirling Castle, her own property, he ensured that Mary was unable to escape and seek French support. Mary, no stranger to the art of intrigue, now resorted to a more subtle and skillfull game.Pretending to agree to the marriage of her daughter to the English heir, she discredited Arran in the eyes of Henry's envoy, Sir Ralph Sadler, and demanded that Beaton be released.Playing one against the other, she obtained from Arran that Beaton be released into the custody of one of her supporters, Lord Seton.Beaton soon escaped to his own Castle of St Andrews, causing Henry's wrath to descend on Arran.But Arran's loyalties were changing once more. His half-brother John Hamilton, Abbot of Paisley had returned from France and was urging him to cut ties with England. In the meantime though, Arran's major rival, the Earl of Lennox, had also been dragged back from the French court by Mary.Mary had enticed him over to Scotland with the promise of making him Governor of Scotland in place of Arran, and falsely, to make him her spouse.Arran and Lennox, eternal rivals, would always sit on opposite sides of the fence. On 1st July 1543 the Treaties of Greenwich were ratified whereby it was agreed that baby Mary would marry Edward at the age of eleven, and peace between England and Scotland was to be assured during their lifetime.There followed a flurried confrontation between Arran's men and Mary's supporters at Linlithgow. The outcome was that it was agreed that Mary would be allowed to leave for Stirling and that her daughter would be put in the care of two Lords chosen by Arran, Lords Livingston and Lindsay, and two others chosen by Lennox, Lords Graham and Erskine.Arran suddenly decided to switch sides again and was reconciled with Beaton.
But the road to the Regency would be a twisted and treacherous one for Mary. Having regained a position of power by becoming the principal member of the Council of Regency, Mary was now able to keep the rebellious Arran under control.However, Lennox realised that Mary's promise of marriage was but an empty one, and decided to approach Henry VIII with a view to marrying his niece Lady Margaret Douglas. In the meantime, the French help which Mary had requested from Francis arrived in the form of money and the French ambassador, Jacques de la Brosse.Lennox, took this opportunity to compensate himself for his trouble and seized the money at Dumbarton Castle where he was in attendance.In Jacques de la Brosse Mary found a valuable ally, as she felt renewed irritation towards Arran's mismanagement of public funds and attitude.She had been advised to draw Lennox back into her party as he was her most likely tool against Arran.She therefore summoned Lennox at Stirling and promised him her daughter's hand to gain time.Lennox was not fooled however and while declaring his allegiance to Mary, continued his secret correspondence with Henry.The danger from England was by now very real and Mary acted by arresting the pro-English Lords in her midst.By December 1543, Parliament declared that because Henry had broken the peace by seizing Scottish ships, the Treaties of Greenwich were invalidated.Angus and his followers rose up against the repeal of the Treaties but were defeated by Beaton and Arran.And, like so many others forced and bribed to Mary's cause, they too played a double game.At the beginning of May 1544, English ships arrived and the Earl of Hertford and his men disembarked near Leith under instruction to destroy everything in his path.Meeting with unexpectedly robust resistance, the English nevertheless managed to ransack Edinburgh and Leith, Haddington, Dunbar and the Stirling area, desecrating sacred places and killing men, women and children alike.Mary blamed Arran for his inertia during those raids.Now well intent on removing him from power she enlisted the help of George Douglas, who although untrustworthy, possessed the expertise that she needed.At a General Council, Arran was accused of destroying the realm and breaking the truce with England but Arran made yet another disappearing act.This was the last straw and it was agreed that Mary should now become Regent.The war was not won yet as Mary was faced with the problem of persuading her people that she could obtain French assistance, while dealing with her disloyal and divided Lords and the rebellious Arran.Mary had to admit that she was not strong enough to depose Arran and a reconciliation was her only way out for the time being.Arran thus remained Lord Governor but guided by a special Council led by Mary.
Scotland was at war for the next five years in what has come to be known as the "Rough Wooing".The usual squabbles between Beaton and Arran continued, while the latter launched a punitive raid in Jedburgh against the "assured Scots", those who had defected to the English enemy.This led to a Scottish victory in February 1545 at Ancrum Moor.The French fleet led by Jacques de Montgomery, Seigneur de Lorges, disembarked at Dumbarton in June but by the autumn, the Earl of Hertford was back burning down the abbeys of Kelso, Melrose, Dryburgh and Jedburgh amongst others. To console themselves, the Scots prepared to forfeit Lennox who was by now in England and married to Lady Margaret Douglas as promised by Henry VIII.A skirmish issued between Lorges, who knew and liked Lennox and Beaton. In the meantime, the unreliable Arran was again plotting to marry off his son to Mary's daughter.Beaton was still out of favour with Mary and with a large number of the Protestants who resented his wealth, way of life and enthusiasm for burning heretics.In March 1546, he had sent a George Wishart to the stake.But it was a quarrel over land with a Norman Leslie which was to be the last nail in his coffin.On 29 May 1546, Leslie accompanied by Peter Carmichael of Balmedie and James Melville broke into Beaton's Castle of St Andrews, murdered him and besieged the castle.They were joined by John Knox.The Earl of Huntly succeeded Beaton and Mary sent Arran to re-capture the castle and avenge Beaton's death.However, Beaton having previously kept Arran's son as hostage in the castle, Arran did not dare do anything too drastic which might put his life in jeopardy.The siege therefore continued well into the following spring.France and England had just signed a peace treaty in which Scotland was trying to be included, when Henry VIII died in January 1547, leaving the Earl of Hertford in power.On the French side Francis I also died four months later, but his successor Henry II assured Mary of his support. This materialised in July when the French fleet headed by Leon Strozzi landed and finally re-captured St Andrews Castle.Unfortunately, Hertford was not about to abandon Henry's policies with regards to the marriage of the little Scottish Queen to English royal heir.On 10 September 1547, known as "Black Saturday", the Scots suffered a bitter defeat at Pinkie Cleugh near Musselburgh.Arran, as per usual, escaped unscathed to tell Mary the bad news.Mary, fearful for her daughter, sent her temporarily to Inchmahome Priory, and turned to the French ambassador Monsieur D'Oysel.The new French King was now proposing to unite France and Scotland by marrying the little Queen to his newborn son.This seemed to Mary to be the only sensible solution to her troubles.In February 1548, hearing that the English were on their way back, Mary moved her daughter to Dumbarton.The English left a trail of devastation behind once more and seized the strategically located town of Haddington.By June, the much awaited French help had arrived and Mary, aged 33, decided that the time had come for her to play an active military role.Shaming the deserting soldiers she found relaxing at home, rewarding and spurring on those on the battlefield, she behaved like her father's true daughter. On 7 July, the French Marriage Treaty was signed at a nunnery near Haddington and by 7 August, the French fleet was sailing back to France carrying the future Queen of Scots on board.
Her daughter may be safe in France but the French treaty was to prove yet another source of worry for Mary.Firstly, there was the problem of her financial resources seriously depleted by years of war and Arran's extravagance.Secondly, the French presence in Scotland was causing a lot of ill-feeling amongst her people. On the bright side, Huntly, who had been held prisoner in England since the battle of Pinkie, managed to escape and celebrated his return by leading an expedition to the Borders in February 1549.In June of the same year, an English fleet captured the small island of Inchkeith, occupying a strategic position opposite Leith.French reinforcements arrived once more, headed by Monsieur De Thermes and easily re-captured Inchkeith.At Haddington, it was an outbreak of the plague which finally convinced the English to abandon ship. In April 1550, the French and the English signed a peace treaty in which Scotland was included.Mary was now free to travel to France to persuade the King to help her financially and to remove Arran (who had been created Duke of Châtelherault by Henry II for agreeing to the marriage of the little Queen to the French Prince).Mary was also eager to be re-united with her family after an absence of 12 years, especially since her father Claud and his brother, Cardinal John had both recently died.Mary took great care with the preparations, ensuring that she would make the best possible impression on the French King, but also carefully choosing the Lords who would accompany her. She had had first-hand experience of their treachery and was not prepared to give them the opportunity to plot against her during her absence.Having left Châtelherault with D'Oysel, the French Ambassador, Mary landed at Dieppe on 19 September.Mary could have easily remained in France and left Scotland to become a French satellite state. However, she did genuinely care for the welfare of her people and enjoyed the political game. It is in that spirit that she conducted negotiations with Henry II, encouraging him to bribe her Lords and thereby easing the tension between both nationalities. Henry having also agreed to her desire for the Regency, Mary began to plan her journey back in the spring of 1551.However, horrified by an attempt to poison her young daughter, she stayed on. She visited her childhood home of Joinville, proudly showing her Lords where she grew up and spending time with her mother and her son Francis.Tragedy struck again when Francis suddenly passed away. Bearing his loss with fortitude, she embarked on 18 October 1551.Mary decided to pay England a royal visit and meet the young English King, Edward VI. Crossing the country from Portsmouth, she returned to Scotland in triumph.Turning her attention to the enforcement of law and order, she travelled throughout the country with Châtelherault to hold justice ayres.In the summer of 1553, Edward VI of England died, succeeded briefly by Lady Jane Grey and then by his half-sister, the catholic Mary Tudor.This was good news for Mary who now found herself on the same side of the religious fence as her old enemy, England.However, there were rumours that the Earl of Lennox was once more active, and Mary decided that it was time to claim the Regency for herself.With the promise of heavy financial incentives, Châtelherault reluctantly capitulated in favour of Mary on 19 February 1554.The ceremony took place on 12 April in Edinburgh: Mary of Guise was Regent at last.
The problems of war with England, the safety of little Mary and Châtelherault dealt with, Mary now concentrated on helping Scotland's battered economy to recover, and to restore law and order once more. However, as usual, the Scottish nobles were a force to be reckoned with.Although she showed more clemency than was customary of a ruler of the 16th century, there were many who disliked her authority and the union with France.Rumours that the little queen was ill opened up the floodgates to speculation about Scotland's future. Would Scotland come to be ruled entirely by a French King?People thus began to favour an alliance with England, especially since the Protestant movement was gaining strength in Scotland.Mary recognised the golden opportunity which presented itself to her adversaries: under the pretext of religion, they would stir up the population against her and seize land and power.The first thing she did as Regent was to surround herself with her supporters, including the Earl of Cassilis, James Makgill and the Abbot of Cupar.Others were rewarded and bribed with generous gifts.Nevertheless, the nobility demanded that the marriage of the little queen to the French Dauphin be finalised. Mary was loath to rush Henry II who was after all the more influential party in this arrangement.On the other hand, she did not want the explosive situation in Scotland to deteriorate even further.The difficulty lay in that France was at war with Spain, whose King Philip of Spain had married the English Mary Tudor.Henry II was now asking Scotland to divert England's attention away from this conflict by re-opening the hostilities.This was a very ill-timed campaign for Mary but she remained bound to obey given how dependent she was on France's help.However, the Scottish Lords openly flouted her authority and refused to proceed.Something had to be done quickly to restore the balance of power.Mary's eldest brother had just captured Calais from the English in January 1558 and Henry II was keen to reward the family.He ordered the royal marriage to go ahead.On 24 April 1558, the little Queen of Scots was married to the French Dauphin. Mary was to remain Regent while she was out of the country and the crown of Scotland would revert to Châtelherault if no children were born to the marriage.However, a secret agreement had been signed by the Scottish Queen, to the effect that the French King would inherit Scotland instead if she died childless.But political unrest prevailed in Scotland under the cloak of religious reform.Disturbances and pillages were taking place to the outrage of the helpless Mary.To make matters worse, on 17 November 1558, Mary Tudor died making way for her Protestant half-sister, Elizabeth I.Luckily, in the spring of 1559, the Treaty of Cateau-Cambrésis was signed, a truce between France and Spain, and an end to the English threat for Scotland.But on 2 May 1559, the troublesome John Knox returned from his exile after the siege of St Andrews and his spell in the French galleys.Pouring out all of his venom in his incendiary sermons (as he later would continue to do to Mary, Queen of Scots), he roused the congregation to violent action.Mary summoned Châtelherault and sweet-talked him into crushing the rebels but the Congregation kept the upper hand.After much to-ing and fro-ing, an agreement was reached on 23 July 1559 on Leith Links with the Lords of the Congregation (as they now called themselves).
But this momentary respite was not to last.The Lords of the Congregation now signed a bond agreeing that none of their number should go to see or speak to the Queen Regent without the consent of the others. Elizabeth I dispatched Sir Ralph Sadler under secret instructions to nourish faction against the French, urge Châtelherault to abandon Mary and coerce her into signing a treaty of perpetual peace with England. With the death of Henry II in August 1559, Mary lost a powerful ally. The Lords who were already complaining of changes to Scottish laws, French-style taxation and the appointment of Frenchmen to important offices of state were overjoyed by the arrival of Châtelherault's son, who had inherited his father's title of Earl of Arran. Châtelherault had once again switched sides and was preparing to take up arms when Mary decided to fortify Leith. Mary's attempts to win over Châtelherault and her step-son, Lord James were of no avail and her circle of supporters diminished daily. On 15 October, the Protestants marched to Edinburgh but Mary had already escaped to Leith. On 21 of October, the Lords announced that her Regency was suspended. But Mary knew that they were not the powerful, united force that they would have had her believe. On 7 November, Mary entered the capital once more after D'Oysel successfully drove them off. Although Mary set about restoring order, she fell gravely ill a fortnight later from chronic heart disease. By December she had recovered and the French had driven back the Protestant forces to St Andrews. Mary, disappointed by Elizabeth's deviousness demanded the reason for the appearance of English ships in the Forth Estuary.The French aid that she was so intently asking for was not forthcoming either. On 27 February, Lords James, Ruthven and others met with the Duke of Norfolk and signed the Treaty of Berwick, agreeing that Elizabeth should accept the realm of Scotland with Châtelherault being declared heir apparent to the crown. In return, the Scottish Protestants promised to support the English forces and to resist any annexation by France. This was a serious blow to Mary who, no longer safe in Leith, convinced Lord Erskine, Keeper of Edinburgh Castle, to let her stay there and deny entrance to anyone else. There, a series of negotiations between English envoys, Scottish lords and Mary were entered into. The lords demanded that French troops be sent home, but in Leith, the English siege had begun. Negotiations finally broke down over the question of the league with England.
Mary's health was rapidly deteriorating. Her heart disease had resulted in dropsy and negotiations with the Protestants had ceased. All her letters were intercepted and her last supporters were deserting her, and yet, no help came from France. On the morning of 7 June 1560, Mary sent for the lords and asked for their forgiveness for having inadvertently offended them and forgave them for their disloyalty. She dictated her will and made arrangements for her funeral. Her mother and brother, the Duke of Guise were to be her executors, with the Earl Marischal (who later repudiated the task) and Sir John acting in the same capacity in Scotland. Finally, on 11 June 1560 in the evening, she passed away. She was embalmed and doctors performed the post-mortem. She was then placed in a lead coffin which remained in the little Chapel of St Margaret within Edinburgh Castle until 16 March 1561, because the Lords of the Congregation could not agree on what to do with her body. On 6 July 1560, the French, Scots and English had signed a peace treaty and both French and English troops evacuated Scotland. Mary's body was taken to Fécamp in Normandy and buried in Rheims at the Convent of St Peter where her sister was the Abbess. The monument erected survived until the French Revolution. "Her life is best summed up in the emblem which she chose for herself. It is a crown, set above a rock which is beaten by winds and by waves but which remains unshaken. Above it are written the words, 'And yet it stand'." (From Mary of Guise, by Rosalind K. Marshall)