Below are some of the most prominent figures in Mary's life whilst in prison in England. Click on any of them to view a larger version.

The Earl of Shrewsbury
Shrewsbury first became involved in Mary's life when he was asked to take part in the Conference regarding the Casket Letters. In early 1569 he became Mary's second jailer. He was a wealthy Protestant loyal to the English Court. During the years that Mary was his prisoner, he complained many times about the expense of keeping her and the insufficient allowance he received for that purpose. A weak character, he was completely dominated by his wife (below). In 1572 he was brought in especially to be one of the judges at Norfolk's trial. Shrewsbury was often accused by the Elizabethan government of allowing Mary too much freedom and favours. He always protested against those accusations but what he would gain should Elizabeth die and Mary become Queen of England, helped to spread those rumours. His wife once started a scandal by accusing her husband of having an affair with the Queen of Scots. Although Shrewsbury, like many others, was sensitive to Mary's charms, no such improper conduct did take place as Bess later admitted. Nevertheless, to avoid further adverse publicity, Mary was eventually put in the care of another jailer, Ralph Sadler in September 1584. After the Babington Plot, Shrewsbury was summoned to take part in the trial of Mary at Fotheringhay. He tried to get out of it but had to give in under threat. It was him who was sent to inform Mary of the verdict and of the time of her execution. He attended the execution too and broke down into tears when the executioner held up her severed head. His family later accompanied the funeral procession.

Bess of Hardwick
The relationship between Mary and Shrewsbury's wife who was by some twenty years her elder, was cordial at first. Mary and she would spend long hours together embroidering and chatting. But Bess was a materialistic, masculine and selfish woman whose main concern was to keep as much wealth as possible in the family. She was generally unsympathetic to Mary's plight and feelings but quite prepared to do anything which could be profitable to her. For a short time she was imprisoned by Elizabeth for having indirectly caused the marriage of her daughter, Elizabeth Cavendish, and Darnley's brother and Mary's former brother-in-law, Charles Stuart. Of the union was born a child, Arbella Stuart. In 1582 on the death of her husband's son, Bess who was in dispute with her husband over property matters, took the upper hand by accusing Mary of having an affair with Shrewsbury. Indignant Mary repeatedly asked for an inquiry to be led in order to expose the slanderers. Later, a letter was found among her papers (which never was sent) in which she reported to Elizabeth how Bess had ridiculed and gossiped about the English Queen behind her back. Bess was eventually forced to refute all allegations against Mary before the English Council.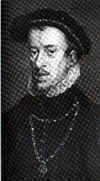 Thomas Howard, Duke of Norfolk
Norfolk was a leading Protestant Noble. At the Conference of York he headed the English panel considering the evidence, and openly expressed his horror over the content of the Casket Letters. However, this did not deter him from accepting Maitland's suggestion that he should marry the Queen of Scots, only a few days later. He had indeed much to gain from a marriage to one whose abdication of the throne of Scotland was invalid because obtained under duress, and who was likely to inherit the Crown of England if Elizabeth died. In 1570 he got involved in the Ridolfi Plot which led to his execution. In her will, Mary bequeathed the diamond he had given her to Mendoza, the Venetian ambassador and her ally.

Sir Francis Walsingham
Walsingham became Elizabeth's secretary. He was a master in the art of deception and infiltered Mary's Council with several of his spies. Charles Paget was one of them. In 1581 he joined the Marian Embassy of Archbishop Beaton while at the same time entering Walsingham's services. The Throckmorton Plot which, like the Ridolfi Plot, involved the potential invasion of England by Spain and was allegedly initialised by the Guises, failed due to Paget's role as double agent. Throckmorton was arrested and maintained that Mary knew all the details of the plot. Walsingham had succeeded in his aim. Mary was from that point onwards seen as a dangerous conspirator. Thomas Morgan who became Mary's chief cipher clerk in all French correspondence was himself a friend of one of Walsingham's chief agent, Phelippes, but was always suspected by the French. It was Walsingham too who encouraged the idea behind the Act of Association that all those in whose favour plots were instigated should be sentenced to death. It was him too who chose Amyas Paulet as Mary's new jailer because he was her mortal enemy. By the end of 1585 Walsingham had recruited another agent, Gilbert Gifford, who was to pose as a messenger for Mary's French correspondence. And thus Walsingham achieved the entrapment of Mary by the Babington Plot. He formed part of the Privy Council at Mary's trial in 1586 and he took it upon himself to arrange practical details such as appointing the executioner and taking him to Fotheringhay. It was him also who gave the instructions to have Mary's body incarcerated in a lead coffin.

Sir Amyas Paulet
Paulet was Mary's last jailer. His first action was to take down Mary's cloth of state with her famous motto "In my End is my Beginning", which she had had hanging over her chair in all her prisons since the days of Shrewsbury. Like the abominable Knox before him, Paulet was a Puritan who found Mary irritating and tiresome as well as offensive to his high principles. He repeatedly ignored her complaints regarding her health and eliminated her outings to Buxton Baths on the pretext that by her alms to the poor she might gain popular support. She was not even allowed to take the air nor to receive any correspondence except from the French ambassador. Her servants were treated in the same manner, while Mary's religious customs and convictions were thoroughly despised. He refused to baptise the child of Barbara Curle, one of Mary's servants, and proclaimed himself scandalised when Mary baptise the child herself according to Catholic rites. By the time the Babington Plot was taking shape, Mary had had to be moved to Chartley due to her ill health. It was also during that time that he broke into her apartments while she was lying ill in bed and unceremoniously seized her money under Elizabeth's instructions. When summoned to repent her sins by Paulet she shocked him with the obstinacy of her reply: "As a sinner I am truly conscious of having often offended my Creator, and I beg Him to forgive me, but as Queen and Sovereign, I am aware of no fault or offence for which I have to render account to anyone here below...As therefore I could not offend, I do not wish for pardon; I do not seek, nor would I accept it from anyone living". Paulet was entrusted with several letters from Mary to Elizabeth and others. He delayed dispatching these for fear that Elizabeth might be touched by them and revoke the Death Warrant. It took almost a year for the other letters to be received by the addressees. Paulet also attended Mary's execution and was made Knight of the Garter after it.