The following page is an attempt to relate the events which led to Mary's execution. Retrace her steps on the English soil through the pictures of the castles below. Click on the links next to the pictures to visit each site individually.
Bolton Castle
Wingfield Manor
Tutbury Castle
Tixall
Fotheringhay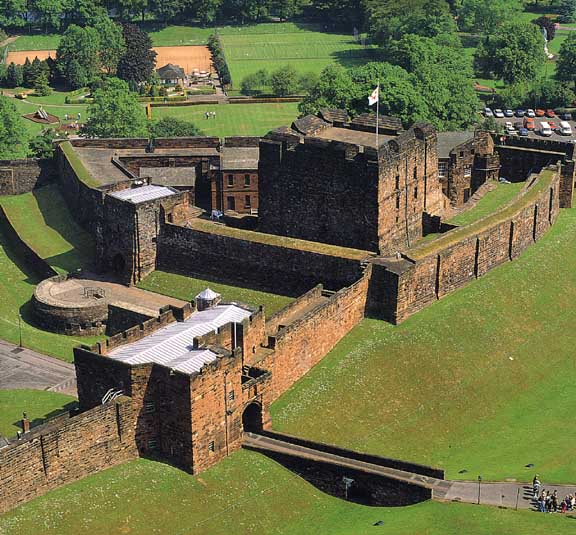 Carlisle Castle
Mary has often been criticised for choosing to escape to England on16 May 1568 after her defeat at Langside . It is an easy thing to do with the benefit of hindsight but not so obvious if one recalls that Mary had never before met Elizabeth I, and that their exchanges had always been pleasant. Mary saw in Elizabeth a kinswoman, not only her relative but also a queen herself, not to mention a woman. Elizabeth had sent her such tokens of her affection as a ring which Mary should send back to her in case of need. Mary may well have represented a threat to the throne of England in the eyes of the English queen, but no less remains that the only claims she ever made to her crown was for her son's benefit, should Elizabeth die without heir. The incorporation of the Arms of England with those of France and Scotland was to be attributed to Mary's French relatives at a time when she was too young to decide such matters.

Mary thus touched English soil for the first time in Workington. She spent the night at Workington Hall, the residence of one of Lord Herries's friends. Full of hope, she wrote to Elizabeth asking her to help her return to Scotland, defeat the rebellious Lords and reinstate her as Queen. On 19 May 1568 she was taken to Carlisle Castle (above) while the English court played for time. Mary continued to send letters to whoever could offer her assistance. Elizabeth finally replied to her, explaining that she would not be able to receive her in London until she had cleared herself of the accusations against her in the Darnley murder. This was Mary's first disappointment. She tried in vain to write to Elizabeth and her French relatives to intervene.
Open all year except Christmas & New Year. Tel.: 44+ (0)1228 591922.

Bolton Castle
On 13 July 1568 Mary was moved to Bolton Castle in Yorkshire, further away from the Scottish border. Mary had by now decided to cooperate with the inquiry as she felt that it would be a mere formality to prove her innocence. What followed remains one of the worst legal aberrations of our history. An Inquiry was held at York during which Mary's treacherous half-brother, the Earl of Moray, produced as evidence the notorious falsified Casket Letters. This was followed by the farcical Conference of Westminster during which Mary was not allowed to attend in her defense or to examine the letters. Elizabeth dismissed the whole matter but Mary was not released. The argument that Mary was a foreign Queen and that she therefore should not have been tried under the laws of England nor by anyone else than Elizabeth herself was conveniently ignored.
Open March to October. Tel.: 44+ (0)1969 623981.

Tutbury Castle

Wingfield Manor
Mary and her retinue were then transferred to what was to become her most hated prison: Tutbury Castle. The journey was long and cold and Mary fell ill on the way. As the castle was not yet ready, they had to stay in Sheffield for a while at the home of Shrewsbury, Mary's new jailer. On 3 February 1569, she finally reached Tutbury. This is where Mary's life was to begin its depressing and monotonous decline, and where her health would begin to deteriorate. At the age of 26 she was confined to the premises of this gloomy and damp prison and the company of her jailer and his wife Bess of Hardwick and her servants. She who so loved the outdoors and physical activity was now restricted to embroidery, playing cards and reading. Nevertheless, she continued to take care of her appearance with the determination of those whose faith refuses to give in. On 20 April 1569 she was moved to the more salubrious residence of Wingfield Manor due to her poor health. She was then moved to Chatsworth on 15 May only to return to Wingfield on 21 September.

Mary was anxious to continue negotiations with Elizabeth and thought that it would please her if she were to marry one of her subjects. The first candidate was the Duke of Norfolk. Although they never actually met, the courtship took place by correspondence and gifts such as a diamond ring from Norfolk and an embroidered pillow from Mary. Far from being pleased with this arrangement, Elizabeth condemned it as plotting against her and locked up Norfolk in the Tower of London. As for Mary, she was sent back to Tutbury, and was denied the pleasure of sending or receiving outside messages. Things worsened even further with the Catholic uprising of November during which Mary was hastily transferred to Coventry away from the rebels. This was the beginning of a series of plots against the English Protestant crown carried out in Mary's name but without her permission or approval. In May 1570, Mary was once more taken to Chatsworth and by August Norfolk was released from the Tower and became involved in the Ridolfi Plot. Elizabeth had started the process of restoring Mary to the Scottish throne but was dragging her feet as much as possible. Among the conditions imposed were those of Mary's son James to be brought to England as hostage. This alliance never did come to anything. The main instigators of the Ridolfi Plot were Mary's ambassador in England, Leslie Bishop of Ross, and an Italian banker Roberto Ridolfi. The idea was that Spain would invade England from the Netherlands with the assistance of a Catholic uprising in England. The Plot which was destined to fail from the start was brought to a halt when a packet of letters from Ridolfi to Leslie was intercepted at Dover. Elizabeth had already been informed of the plot beforehand. Leslie under the threat of torture lay all the blame on Mary and Norfolk. Norfolk was tried for high treason and executed in June 1572. Mary admitted giving Ridolfi a financial commission but strongly denied any other part in the scheme.

Meanwhile, Mary was alternatively shifted between Sheffield and Chatsworth, her health continuing to deteriorate due to inactivity and confinement. In August 1573 she was at long last granted a five week stay at Buxton baths to take the waters there. In Scotland, Morton had succeeded Mary's murdered half-brother the Earl of Moray and in turn been executed for his part in the Darnley murder. On his side, Mary's son had decided to ignore his mother's plea and suggestion to rule jointly, and preferred an alliance with Elizabeth which would leave him sole ruler of Scotland. Mary's correspondence to Elizabeth had still not brought about hopes of release or a meeting between the two Queens. Fear of further Catholic uprising prompted the English Parliament to pass an Act making it punishable by death to plot against the Queen. The task of controlling the Catholic rebels was handed over to Sir Francis Walsingham, a devious character whose main goal was to destroy Mary Queen of Scots.

In 1583 he set up the Throckmorton Plot in the hope that Mary would join in and compromise herself. But it was with the Babington Plot that Walsingham finally obtained the desired result. First, he encouraged a Dr Parry to plot the assassination of Elizabeth. When it came to light Mary expressed her horror at it and denied any part in it. Nevertheless Parliament announced that in future she would be held liable whether or not she was aware of the plot. At Tutbury Mary was given a new jailer, Sir Amyas Paulet, a puritan and uncharitable man who, unlike the others, was unmoved by Mary's charm or illnesses. He cut off all her correspondence, stopped her from any outdoor activities and denied her every distraction. Eventually her health got so bad that she had to be moved to Chartley Hall. This is where Walsingham's final plan took shape.

In 1586, with the connivance of a brewer, Walsingham had devised a method by which the unsuspecting Mary could resume her secret correspondence with the French ambassador by means of coded messages hidden inside a barrel. Unknown to her these messages would then be intercepted by Paulet and sent on to Walsingham. They would then be decoded and forwarded to their intended destination. Walsingham then ensnared Sir Anthony Babington, a young Catholic idealist who saw Mary as the martyr and prisoner that she was. Mary soon received his "secret" correspondence (external site) and hopes of escape were once again revived. Unfortunately, one of Babington's letters mentioned the ambiguous removal of Queen Elizabeth. Prompted by the bitter disappointment of those long years of illegal imprisonment and her son's betrayal, she replied (external site) to Babington approving his plans. With relish, Walsingham drew the sign of the gallows on this last letter. Babington was arrested and executed. Mary's secretaries Nau and Curle who had been in charge of the coding were also arrested and confessed. Mary was arrested and sent to Tixall.

Tixall
Mary was kept here for two weeks and then taken back to Chartley Hall. On 21 September 1586 she and her servants were moved to an unknown destination. She arrived at Fotheringhay four days later. On 15 October 1586, in the Great Hall of Fotheringhay, she was tried without representation and stunned all those present by her dignity and calm. In her speech she reiterated her innocence and the reasons why she considered this trial illegal. On 25 October a verdict of guilty was reached. Elizabeth who had managed to avoid the embarrassment and danger of sentencing to death one who was her equal, could defer it no longer in the face of the Act and the damning evidence. Before that she had written to Paulet hinting that he should assassinate Mary himself and thus relieve her of the responsibility. Unfortunately for her, Paulet's puritanism and honour got in the way and he refused to do so. She finally signed Mary's death warrant among a pile of other papers on 1 February 1587. Later, she would try to save her face by pretending that this warrant had been for safekeeping and not execution, but no one really believed her.
Click here to continue