Linlithgow Palace (Click here to visit)*
This is where Mary was born in December 1542, while her father lay dying in Falkland after his defeat at Solway Moss. He never saw his daughter but upon being given the news of her birth, uttered the famous prophetic words: "It cam wi a lass and it'll gang wi a lass", by which he meant that the crown of Scotland had come through a woman Marjorie Bruce and would be lost through a woman. Mary was baptized in the chapel there (see photo below), where the Royal Coat of Arms can be seen on the pew. Mary returned to Linlithgow in August 1562 during her first progress, and again in July 1564.
Open all year. Tel.: 44+ (0)1506 842 896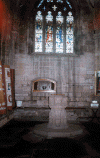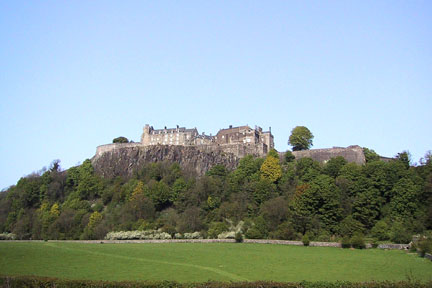 Stirling Castle (Click here to visit)
On James V's death, James Hamilton, Earl of Arran was appointed to rule during Mary's minority. He signed an agreement with the English King Henry VIII according to which Mary was to marry his son Edward. Mary's mother, Marie de Guise refused point blank and took baby Mary to Stirling Castle to protect her from an English kidnapping. There she was crowned Queen of Scots in the chapel aged only 9 months. She spent the first five years of her life there, growing up with her two half-brothers, Lord James and Lord Robert and her half-sister, Lady Jean Stewart.
She returned to Stirling on her progress in 1562 and at the time of the Chaseabout Raid against her half-brother James, in 1565. Later, she sent her new-born son there to be looked after by the Earl of Mar. He was baptized in the Chapel Royal on 17th July 1566 and crowned King in 1567. On 24th April 1567, Mary visited him which was the last time that he saw his mother alive.
Open all year. Tel.: 44+ (0)1786 450 000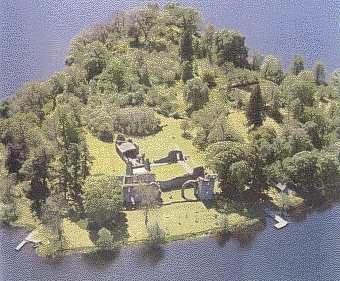 Inchmahome Priory (Click here to visit)*
Furious at the Scots for breaking the agreement with Henry VIII, the English continued their attacks against Scotland, known as the Rough Wooing years. In 1547, they gained victory at Pinkie under the Earl of Hertford, and Mary was moved to safety to Inchmahome Priory where she stayed for a little while before being moved again to the impenetrable Dumbarton Castle.
Open April to September. Ferry trip.
Tel.: 44+ (0)1877 385 294

By this time, in 1548, Scotland was no longer safe for the young Mary. Her French family, the Guises, came to the rescue and agreed to welcome her in France. They signed the Treaty of Haddington which betrothed Mary to the French King's son, the Dauphin, and the French fleet picked Mary up in July. She sailed on 7th August accompanied by, amongst others, Mary Fleming (daughter of her governess Lady Fleming and related to the Royal House of Stewart), Mary Beaton (relative of the murdered Cardinal Beaton), Mary Livingston and Mary Seton: her Four Maries. Her mother, Mary of Guise would return to Scotland to rule and would only visit her daughter once before she died in 1560. Mary visited Dumbarton again during her progress in 1563.
Open all year but not on Thursday/Friday afternoons between March/October.
Tel.: 44+ (0)01389 732 167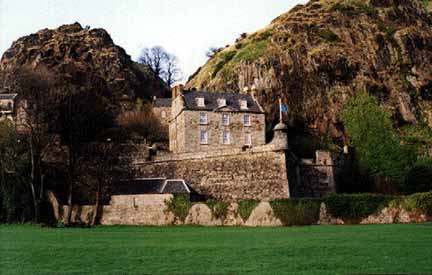 Her mother and her husband, the Dauphin King Francis II having died, Mary had nothing left in France and was made all the more unwelcome by her evil mother-in-law, Catherine of Medicis who was keen to snatch the French crown off her head and rule in her place. She decided heavy-hearted to return to Scotland after an absence of 13 years and fulfill her duties as Queen of Scotland. As her ship sailed away she kept her eyes on the French coast until it disappeared out of sight.
She arrived earlier than planned at Leith, once one of the biggest ports in Europe, on 19th August 1561, aged 18. She was greeted by thick haar (sea mist) and confusion as nothing was ready for her. She was taken round the corner to a local merchant's house, Lamb's House, to rest and wait. This building is still there today but is not open to the public.
Today, Leith Harbour is one of the most popular sites in Edinburgh and its waterfront boasts a plethora of the best seafood restaurants and others, as well as picturesque pubs. A must for every visitor!
The Palace of Holyroodhouse
(Click here to visit)*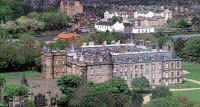 After her first night in Leith, Mary was eventually escorted back to the Royal Palace, Holyrood Palace in Edinburgh. Having grown up in the splendour of the French castles, Mary was not impressed by this one, with its frugality and its comparatively small size. She was to spend the next seven years there. This is where she gave audience to the abominable John Knox and where she suffered the abject Darnley, her second husband. It is in the chapel that she celebrated her first Catholic Mass disturbed by the uproar of her people outside the gates, and where she married Darnley on 29th July 1565. Darnley is buried in Holyrood Abbey.
Click the link above and you will discover Mary's bedchamber with its little alcove in the corner of the room. That little chamber is where Mary enjoyed the company of her friends over supper, and where she and her secretary, David Rizzio, conversed and played cards until the early hours of the morning whilst her husband Darnley was busy drinking himself to a stupor and cavorting in Edinburgh's whorehouses. While Mary regarded Rizzio as a devoted friend and confidant, her entourage hated the little Italian. The Protestant Lords who already did not have a lot of esteem for Mary, saw him first and foremost as a Catholic interference in Scotland's political affairs. As for the debauched and stupid Darnley, Rizzio was a threat to his chance (however slim) of obtaining his cherished Crown Matrimonial. It was therefore not difficult for the Lords to fire up Darnley's jealousy and boost his ego in order to get him to agree to a murder plot against Rizzio.
It was during the night of 9th March 1566, while Mary, who was heavily pregnant with Darnley's son, Rizzio and a few others were dining in the little chamber, that Darnley and the Lords burst in and dragged Rizzio away. The evil Lord Ruthven who was thought to be no stranger to witchcraft, stabbed him 56 times. Mary's half-brother, who was also part of the plot, was conveniently hiding abroad at the time and denied knowing anything about it. Darnley, soon realised that he had been used and begged Mary for forgiveness. Feigning to be indisposed due to the shock and her late pregnancy, Mary managed to lock herself away in her room and both escaped to Dunbar where Bothwell was awaiting them.
Holyrood Palace is open all year except during the Queen's residence. Tel.: 44+ (0)131 556 1096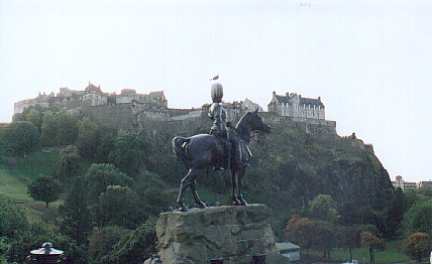 Edinburgh Castle (Click here to visit)*
This is where Mary's mother, Marie de Guise, died in 1560 and from where Mary met her people for the first time in 1561, during a procession down the Royal Mile which links the Castle at the top to Holyrood Palace at the bottom.
After the murder of Rizzio in 1566 and her escape to Dunbar, Mary felt that it would be safer to move back into Edinburgh Castle until her baby was born. She pardoned her half-brother James as well as Glencairn and Argyll for taking up arms against her during the Chaseabout Raid in 1565, in protest against her marriage to Darnley.
On 19th June 1566, Mary's son James was born at the Castle. See tour.
Open all year. Tel.: 44+ (0)131 225 9846

Traquair House
Although the couple was by now seriously estranged, Mary decided to relax on a hunting trip to Traquair House in the Borders. The house has a collection of artifacts having belonged to Mary, including a shoe which she discarded because of its broken heel, and a crucifix and rosary.
The bed below is believed to have been used by the couple during their stay and the cover is said to have been embroidered by Mary's ladies-in-waiting, the Four Maries.
Open daily Easter to September and Fridays/weekends only during October. Tel.: 44+ (0)1896 830 323
Mary Queen of Scots House (Jedburgh)
Mary may have stayed in this house in October 1565 on her fifth and last progress during which she held royal justice courts. While there, news were brought to her that Bothwell was dying of his wounds after an altercation with one of the Borders outlaws. Some state that Mary and Bothwell were already in the middle of a full blown affair and that she rushed immediately to his side, and rode the sixty miles in one day. Bothwell had always shown himself loyal and reliable and Mary must have found him a much greater help than her useless husband. However, she did not leave immediately as she was very ill herself. The long ride proved too much for her and she lay sick in her bed at Jedburgh for a long time. It was during that time that she made it clear that Darnley was not to take over from her were she to die without an heir. Meanwhile Bothwell recovered.
The picture above (right) shows the room Mary would have used at the house. Today, the house has been transformed into a museum dedicated to Mary. It is well worth a visit for anyone interested in her story. The museum also displays one of Mary's death mask (see picture on Home Page), decorated by a local cosmetic school, and gives a true impression of what Mary really did look like.
Open all year. Tel 44+ (0)1835 863331

Hermitage Castle (Click here to visit)
The Castle that Mary rode to in order to visit the wounded Bothwell. On the way there, she is reported to have fallen off her horse into a bog and lost her watch. In the eighteenth century, a farmer recovered an object which was identified as being a sixteenth century French watch.
Open daily April to September and weekends only from October to March. Tel.: 44+ (0)1387 376 222
Craigmillar Castle

The worst of her illness being over, Mary proceeded with her progress and went to Craigmillar to recover. There the "Darnley problem" was discussed with her advisors. Mary wanted to be free from Darnley but having her marriage annulled would mean that her heir would become illegitimate. This was therefore no solution but Mary firmly rejected the alternative suggested to her which was to get rid of Darnley good and proper. No doubt that this episode contributed greatly to the rumour that Mary knew all about the murder conspiracy and was art and part in it.
Open all year except Thursday afternoons and Fridays from October to March. Tel.: 44+ (0)131 661 4445
Lochleven Castle (Click here to visit)*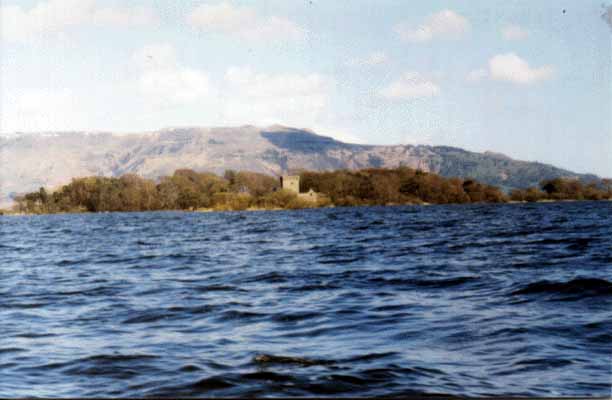 After her last progress, Mary spent some time in Drummond Castle accompanied by Bothwell after which she visited Darnley in Glasgow who was in the late stages of syphilis. She returned with him to Edinburgh but, for fear of infection, she arranged for him to stay at Kirk O'Field (this site is now called the "Old College" and is where the Law Faculty of Edinburgh University is located). Mary also had a bed brought in for her own use in the room below that of her husband. On the night of 9th February 1567, Mary paid Darnley a visit but returned to Holyrood to celebrate one of her page's wedding. Later on that night a huge explosion was heard which wiped out the building at Kirk O' Field. Bothwell's name was being shouted in the streets. Darnley did not die in the explosion however. His body was found half-naked in the gardens and it was suggested that he had been strangled. Mary and Bothwell were immediately associated with the crime. However, it was no secret that the Lords of the Congregation wanted to be rid of Darnley and hated Bothwell. Using Bothwell as the culprit was an ideal way of bringing Mary into disrepute by the same token. After all, Mary should have been sleeping at Kirk O' Field that night. Whatever the truth of the matter, the plan did work and insulting placards appeared at the Mercat Cross on the Royal Mile. Mary retreated to Seton Castle to mourn. After her marriage to Bothwell on 14th May 1567, the Lords once more decided to take up arms against her in protest. They met at Carberry Hill on 15th June but there was no confrontation. Instead, the Queen agreed to the Lords' demands on condition that Bothwell be allowed to walk free. In return, they promised her that she would be reinstated as monarch. However, nothing of the sort happened. Bothwell escaped to Norway only to end his life in jail in Denmark, while Mary was led back to Edinburgh under the insults of the plebe and without being allowed even a change of clothes. They then took her to Lochleven where she stayed imprisoned for a year.
Lochleven Castle is situated on a very small island near Kinross. At the time, it was in the possession of William Douglas, son of Lady Agnes Douglas who was herself James, the Earl of Moray's mother. Rejected mistress of James V who had preferred Mary's mother, she could never come to terms with the fact that Mary was James V's legitimate child and bearer of the Crown instead of her precious son James. She made life hell for Mary as soon as she arrived. However, Mary made a few friends there, including the youngest son, George Douglas who became so infatuated with her that he helped her escape. Before that though, Mary fell very ill again and had a miscarriage. She lost twins who were presumably Bothwell's children and were buried on the island.
The Lords visited her there and under force and fear made her abdicate in favour of her son. On 2nd May 1568, after a first fruitless attempt, Mary escaped from the Castle and was met by Lord Seton on the other side. On 13th May, she gathered her troops and went to fight against her brother and the Lords. She was defeated and fled to Terregles Castle.
Open April to September. Tel.: 44+ (0)1786 450 000

Dundrennan Abbey
From there she moved on to Dundrennan Abbey and decided against everyone's advice to seek refuge in England. Mary, honest and optimistic, believed that her cousin Elizabeth I whom she had never met, would help her regain authority in Scotland. She had let herself be misled by Elizabeth's cunning ways and empty words, and above all thought that she would assist her because she was a monarch too and her relative. Of course, she could not have been more mistaken. She arrived in England on 16th May and at first enjoyed hospitality in Workington Hall held by one of Seton's friends. When she was escorted to Carlisle Castle, she realised that she had been made a prisoner.
Mary stayed in English prisons until her execution in 1587. She was 44 years old... She never met Elizabeth I.
Open April to September. Tel.: 44+ (0)1557 500 262